Chief Consultant Psychiatrist
Dr. Gauthamadas Udipi
Dr. Gauthamadas Udipi is the recipient of the prestigious international Mahatma Award for Social Good – 2023, by the Aditya Birla Eternal Gandhi Initiative, for a lifetime of promoting accessibility to mental healthcare, battling the stigma of mental disorders, public education on mental health, and disaster mental health response.
Dr. Gautham is a leading neuro psychiatrist in Chennai, India, and is ranked among the best in India by the Times Healthcare Survey, India from 2017 to date. He is a professor of psychiatry, a specialist in Neuro Behavioral Medicine, an expert in psychosocial interventions in disasters, and an educator. 
Acknowledged as the "Most Trusted Neuro Psychiatrist of the year" in 2017, he was conferred the Lifetime Achievement Award in 2015 by the Indian Medical Association for his contribution to psychosocial interventions in disasters, public awareness on mental health, medical education, and service to the community. Dr. Gautham has also received several other awards, including the Healthcare Personality of the Year 2018 for Excellence in Mental Health Care.
Dr. Gauthamadas holds a Ph.D. in psychiatry, a Doctor of Medicine (MD) degree, a Diploma in Psychological Medicine (DPM), and a Diploma in Child Behaviour and Development (DCBD). He has been a consultant to the World Health Organization (WHO) on Early Childhood Care and Development, and the United Nations Development Programme (UNDP) on disaster mental health.
Dr. Gautham is a prolific public educator has published several books and articles popular national and international and regional language newspapers and magazines and scripted countless TV programs on mental health. He is also a sought-after speaker and has delivered several keynote addresses at national and international seminars. Dr. Udipi is known for his compassionate and patient-centric approach to mental health care and is widely respected by his peers and patients alike.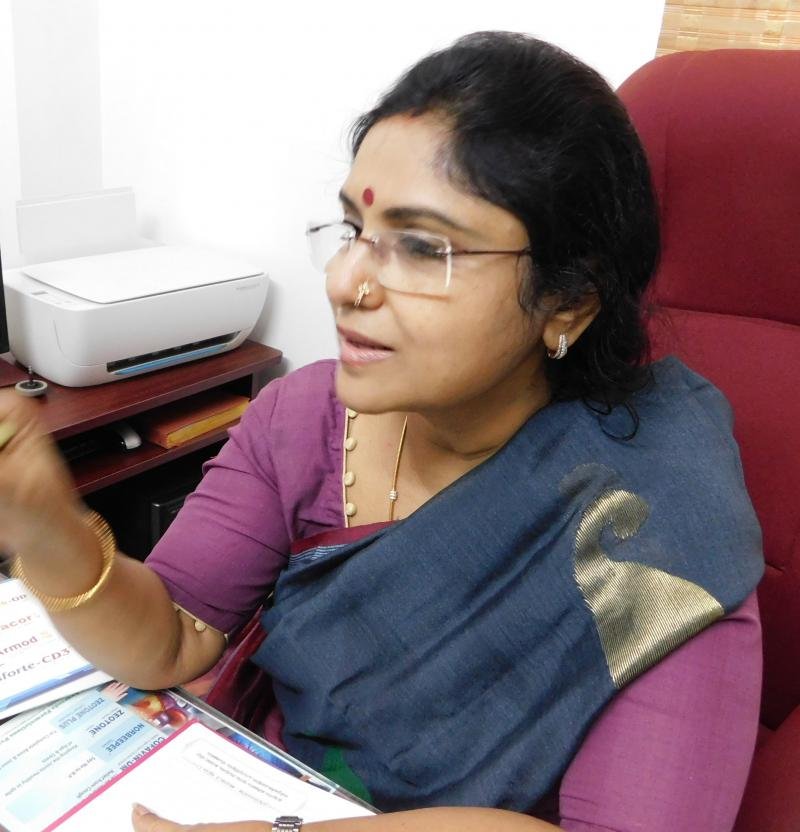 Chief Counsellor
Mrs. Rajashree Gautham
Mrs. Rajashree Gautham is a distinguished professional in the field of counselling psychology. She has leveraged her profound knowledge of human psychology and her extensive experience to make a significant impact on the well-being of individuals, couples, and families. With a bachelor's degree in psychology, she has honed her skills as a counselling psychologist, earning a stellar reputation for her unwavering commitment to enhancing mental health.
Mrs Gautham has developed a unique holistic and dynamic counselling psychology approach which integrates a profound understanding of human behaviour and emotions with an empathic yet non-directional guidance to offer comprehensive yet effective solutions for mental well-being. With over 20 years of hands-on experience addressing a wide range of psychological challenges, Mrs. Gautham has become a trusted authority in individual counselling, marital guidance, and family therapy.  Her nuanced approach, and profound understanding of human behaviour, has helped countless individuals navigate the complexities of their lives.
As the Managing Director of Sakthisri Solutions, affiliated to Doc Gautham's Neuro Centre, Mrs. Gautham has played a pivotal role in establishing the organization as a beacon of excellence in psychological counselling services. Her leadership is marked by a dedication to fostering a supportive and compassionate environment, ensuring that clients receive the highest quality of care.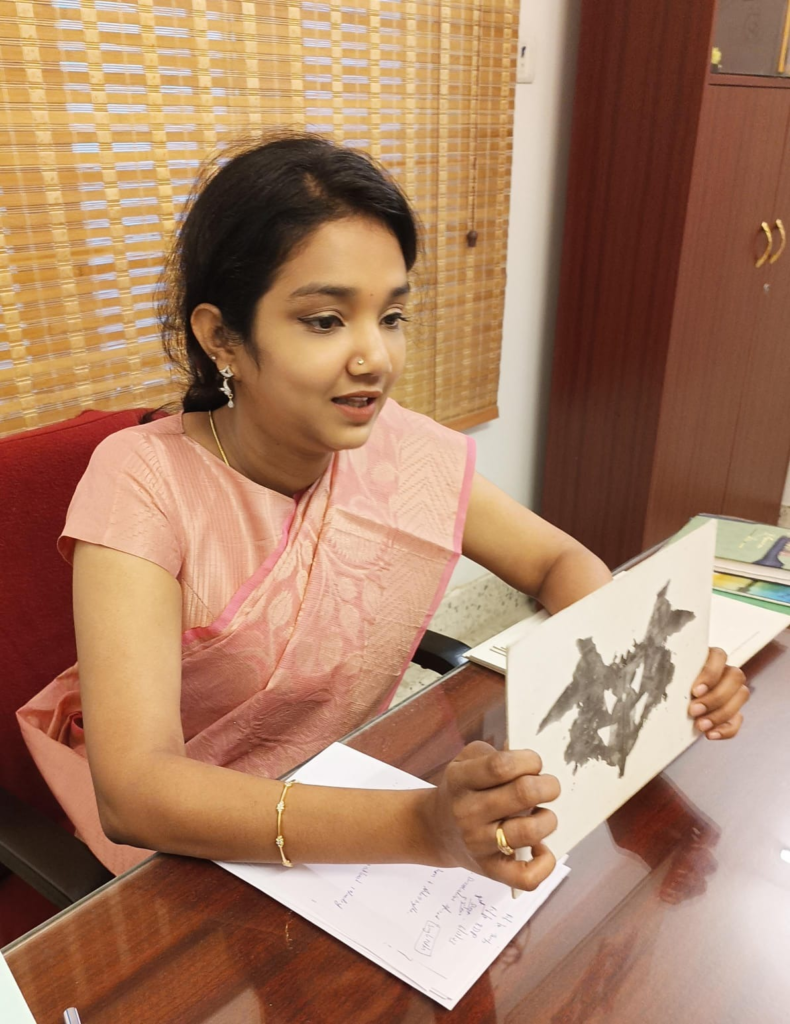 Chief Clinical Psychologist
Mrs. Archana
With a distinguished academic background and a wealth of experience in clinical psychology, Mrs. Archana. is a highly accomplished professional in the field. A graduate and postgraduate in psychology holding a M. Phil. in Clinical Psychology, she has demonstrated an unwavering commitment to advancing her expertise and contributing to the field of mental health.
As the Chief Clinical Psychologist at Doc Gautham's Neuro Centre, Mrs. Archana. plays a pivotal role in leading and shaping the clinical psychology department. Her comprehensive skill set encompasses psychometric testing, cognitive therapy, CBT,  child behaviour and guidance, and parental education. This extensive range of expertise positions her as a versatile and well-rounded professional capable of addressing a broad spectrum of psychological needs.
In her role as the head of the Therapy Center for Sakthsri Solutions, Mrs. Archana. has demonstrated outstanding leadership and a deep understanding of therapeutic interventions. Her commitment to providing high-quality psychological services is reflected in her ability to create and implement effective therapy programs that cater to the unique needs of individuals and families.
Mrs. Archana. brings a compassionate and client-centred approach to her work, fostering a therapeutic environment that promotes healing and personal growth. Her proficiency in psychometric testing allows for precise and insightful assessments, enabling tailored therapeutic interventions that address the specific challenges faced by her clients.
With a keen focus on child behaviour and guidance, Mrs. Archana. is dedicated to enhancing the well-being of children and adolescents. Her expertise extends beyond individual therapy to include effective strategies for supporting parents, emphasizing the importance of holistic and collaborative approaches to family well-being.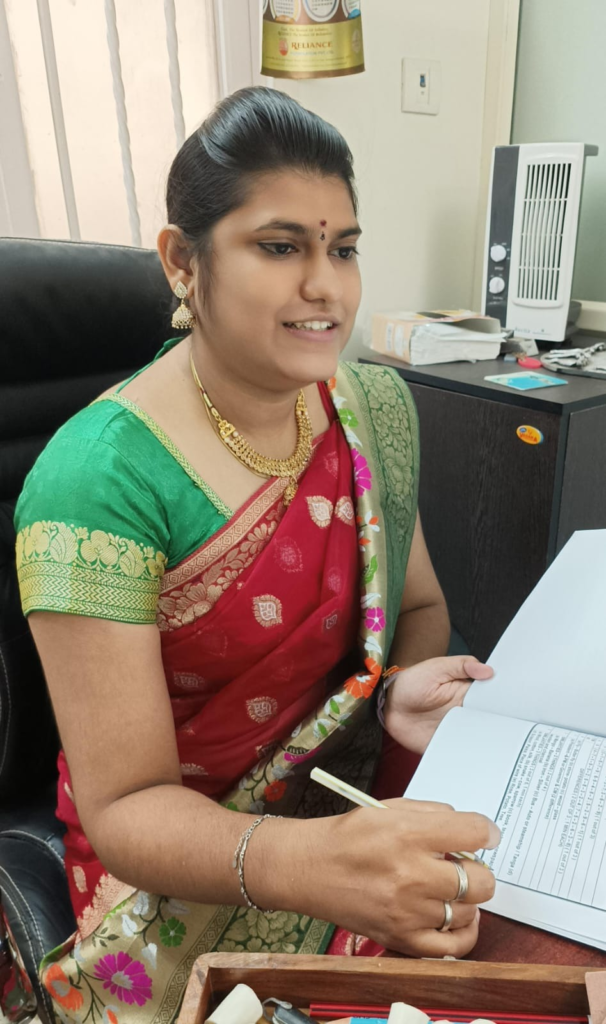 Clinical Psychologist
Ms. Kirtika P
Ms. Kirthika. is a highly qualified and dedicated clinical psychologist.  With a bachelor's degree (BSc), a Master's degree (MSc), and a MPhil in Clinical Psychology, her educational achievements underscore her commitment to excellence in the field of mental health.
Currently serving as a Clinical Psychologist at Doc Gautham's Neuro Centre, her role involves the application of advanced clinical psychology principles to assess, diagnose, and treat a diverse range of psychological conditions. With a focus on evidence-based practices, Ms. Kirthika. plays a crucial role in enhancing the quality of psychological services provided by Doc Gautham's Neuro Centre.
An integral part of the Therapy Center team at Sakthsri Solutions, her skills and insights contribute to the development and implementation of therapeutic interventions. Her collaborative approach within the team ensures a comprehensive and well-rounded approach to addressing the mental health needs of individuals and families. Clients trust Ms. Kirthika's expertise and compassionate approach to guide them on their journey toward mental well-being.
Consultant Physician
Dr. Sakthi Gautham MD
Dr. Sakthi Gautham MD (Internal Medicine) is a highly skilled physician trained in the USA. She possesses a profound understanding of the complex interplay of various organ systems within the human body and her expertise ensures a holistic approach to patient care. Having worked in diverse healthcare settings, she is adept at collaborating with multidisciplinary teams to optimize patient outcomes and enhance the overall quality of healthcare delivery. She actively engages in patient health education initiatives and promoting preventive healthcare measures.