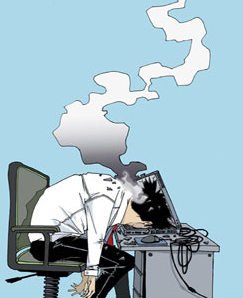 Anyone can become exhausted. Burnout happens when people who have previously been highly committed (to studies or a job) lose all interest and motivation. Sadly, this can spell the end of a successful career. While exhaustion can be overcome with rest, a core part of burnout is a deep sense of disillusionment. Therefore, burnout affects those who have deep sense of responsibility and commitment and is not experienced by people who can take a more cynical view of their work.
Symptoms of Burnout
Physical symptoms can include physical fatigue, frequent illness and sleep problems.
Emotional symptoms include disillusionment with the job; the loss of a sense of meaning and cynicism towards our organizations or clients; feelings of helplessness; frustration of efforts and a lack of power to change events; strong feelings of anger against the people we hold responsible for the situation; and feelings of depression and isolation.
Behavioral symptoms can include increasing detachment from co-workers, increased absenteeism, an increased harshness in dealing with our teams, marked reduction in our commitment to our work, and increased alcohol consumption. These symptoms reflect exhaustion and a loss of satisfaction with work.