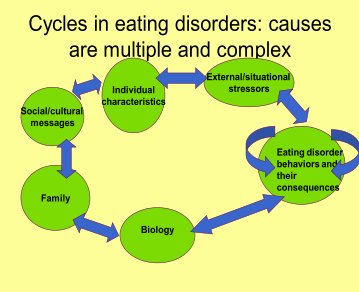 People with eating disorders may have psychological and emotional problems that contribute to the disorder. They may have low self-esteem, perfectionism, obsessive-compulsive personality traits,  impulsive behavior, anger management difficulties, family conflicts and troubled relationships. Teens who have low self-esteem might use their eating habits or weight loss to achieve a sense of stability or control.
The emergence of major eating disorders in India appears to have been  under control due to several of the regional cultural and social factors especially the permissive attitudes towards body shape, lack of social pressure to be slim and the culturally accepted practices of starvation and overeating and dress preferences, till a decade ago. But the changing culture, westernization, and media, social, and peer pressure to be slim seems to have changed this trend in the last few years.
Studies shows that today, a significant number of young people, especially females, exist in India who have conflicts with regard to their eating habits and body habitus and who are at possible risk for developing  serious eating disorders.

Neuro-psychiatric medication can help control the obsessive preoccupation with body image, and the associated depression and help reduce the symptoms.
Talking through and challenging beliefs and thought pattern in a structured manner helps identify and recognize unhealthy, negative beliefs and behaviors and replace them with healthy, positive ones, gain a healthier self-esteem and learn positive ways to cope with distress and other strong feelings.
One of the main goals of treatment is to restore the person to a normal weight for height. This is done through nutrition education and  an eating plan that can help instill normal-eating habits and achieve a weight restoration goal.