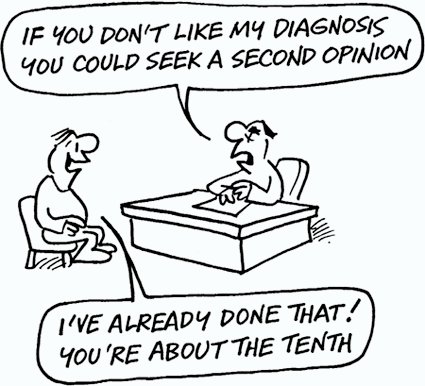 Symptoms:
a long-term intense fear or anxiety about having a serious disease or health condition
Worrying that minor symptoms or bodily sensations mean  a serious illness
Repeated visits to the doctor for the same symptoms, demanding tests such as MRI or CT scans, echocardiograms or even exploratory surgery in spite of the doctor denying any serious illness
Doctor shopping or frequently switching doctors looking for one who says there is a serious illness
Continuously talking about the symptoms or suspected diseases with family and friends
Obsessive health research
Frequently checking the pulse or blood pressure or exploring the body lumps or sores
Thinking there is a disease after reading or hearing about it
Treatment:
Treatment for hypochondria includes psychotherapy, education and medications.
Psychotherapy. Psychotherapy (counseling) is the primary treatment for hypochondria. A form of psychotherapy called Cognitive therapy helps to recognize and stop behavior associated with the anxiety of an illness
Education. Psycho-education, is a form of of therapy that can promote understanding about hypochondria
Medications. Medications often  help to relieve the obsessive thoughts, anxiety and other symptoms of hypochondria.