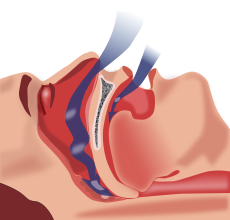 Symptoms:
Excessive daytime sleepiness (hypersomnia)
Loud snoring that disturbs the sleep of others as well as self
Intermittent pauses of breathing during sleep which can be observed
Abrupt awakenings accompanied by shortness of breath,
Awakening with a dry mouth or sore throat
Morning headache
Difficulty staying asleep (insomnia)
Excessive daytime drowsiness,
Fall asleep while working, watching television or even driving
Complications:
Cardiovascular problems such as  high blood pressure (hypertension), stroke, heart attack, heart failure, irregular heart beat with a cardiac event.

Daytime fatigue with  irritability., difficulty concentrating, mood swings, behavior or scholastic problems in children.

Complications with medications and surgery
Sleep-deprived partners.
Memory problems
Morning headaches,
Impotence
Gastroesophageal reflux disease (GERD)
Hyperactivity in children with a misdiagnosis of attention-deficit/hyperactivity disorder (ADHD).