Premarital counseling is a type of therapy that helps couples prepare for marriage. Premarital counseling can help ensure that partners in a marriage have a strong, healthy relationship. This gives them a better chance for a stable and satisfying marriage. Premarital counseling can also help identify weaknesses that could become problems during marriage.
Preparing for marriage involves more than organising a wedding or throwing a party. Each partner in a marriage brings their own values, opinions and history into a relationship, and they might not always match their partner's. In addition, many people go into marriage believing it will fulfill their social, financial, sexual and emotional needs — and that's not always the case. By discussing differences and expectations before marriage, the partners can better understand and support each other in the marriage.
The goal of premarital counseling is marriage skills building by bringing up issues and discussing them as a couple. You can focus more on areas of discussion if there are few areas of conflict, or if you are experiencing relationship conflict, your counselor can help you work through disagreements.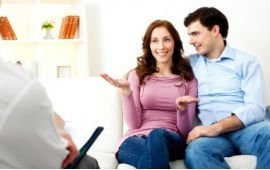 You do not have to be experiencing relationship problems to benefit from premarital counseling. In fact, many couples who receive premarital counseling report that spending time with and learning about their future spouse is the most helpful part of premarital counseling.
Research shows that couples who receive premarital counseling have better relationship adjustment in the marriage compared with similar couples who have not undergone it. Premarital counseling can also help couples have higher levels of satisfaction and commitment to their marriage, and lower levels of conflict and chance of divorce.